After six weeks, authorities have arrested a suspect in the murder of Keyeon Demmons of Augusta.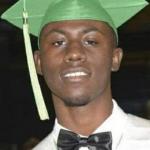 The 20-year-old victim was gunned down Sept. 29 inside a 2006 Honda Civic while the vehicle was outside the Pak N Go on Olive Road. Two others inside the car survived.
Juante Lord, 20, of Augusta, was jailed Friday on charges of murder, two counts of aggravated assault, criminal damage to property and weapon possession. Lord has one previous arrest as an adult, for marijuana possession, driving while unlicensed and speeding in Columbia County.
Still on the loose is 22-year-old Naytrone Adams, according to Richmond County authorities. He is also wanted for murder.
   The shootings happened in broad daylight around 3:30 p.m. when Demmons was shot at least one time and was pronounced dead on the scene.  Victim Mylak Wimberly was shot but survived, and Jabree Mears was also inside the Civic and survived. A motive was not released.
Several rounds of gunfire from the suspects' weapons also struck a 2003 Jeep Cherokee, according to arrest warrants.
Demmons was a graduate of T.W. Josey High School, Class of 2018.