Richmond County authorities have a person in custody Saturday after an early morning shooting in Augusta.
Quintin Watkins, 30, was pronounced dead at the scene of the shooting, Coroner Mark Bowen said.
Just after midnight Saturday, emergency responders were dispatched to the 2300 block of Patrick Avenue in reference to a shooting. Watkins, of Boykin Road, was pronounced dead on the scene at 1:20 a.m. Saturday. He had been shot at least once.
The name of the person in custody has not been released. Sheriff's Sgt. Monica Belser said updates will be given later.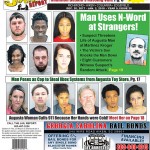 Note: If you have a photo or memory of Quintin Watkins, please text it to The Jail Report at 803-487-3224.
For more crime news, pick up the latest edition of The Jail Report.