Eight have been arrested for murder and two others are being sought in connection with Friday's deadly fight on Chaps Lane in south Augusta.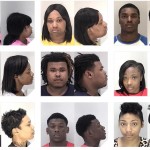 A three-minute video that a witness recorded has been very helpful to investigators looking for those to blame for the street brawl that led to the stabbing death of 18-year-old Demajay Bell.
"During the course of the investigation, investigators learned that a large group had arrived at the residence on Chaps Lane in order for two females to fight over a pre-existing dispute," sheriff's Lt. Allan Rollins said in a press release. "Once the two groups confronted each other in the street, a fight started and several acts of Aggravated Assault occurred, to include the act which led to the death of Demajay Bell."
Based on the investigation the following persons have been charged and arrested with the offenses of Aggravated Assault and Murder:
Quiauna Henley (35) of Chukar Ct, Hephzibah
Quiasha Henley (18) of Chukar Ct, Hephzibah
A'Lexis Cain (18) of Green Forest Drive, Hephzibah
Tyteanna Thomas (18) of East Kensington Drive, Augusta
Raheem Jobes (19) of Westfield Drive, Augusta
Myah Dunbar (18) of Portsmouth Place, Hephzibah
Eyvette Lashawn Byrd (39) of Chaps Lane, Hephzibah
Demetrius Lamont Harris Jr (21) of Chaps Lane, Hephzibah
Warrants have been issued and the following persons are being sought:
Eddie Doneal Carter III (18) formerly of Wharton Drive, Augusta
Terry Lee Daniels (19) of Amsterdam Drive, Augusta
The eight already captured,  as well as Eddie Carter, are pictured above. There is no photo available for Terry Lee Daniels.
"This is still an active investigation and additional arrests may be forthcoming," Lt. Rollins said.
Background. According to a sheriff's report, around 2 p.m. Friday, dozens of people came to 2206 Chaps Lane in Hephzibah to fight a 15-year-old girl who lived there. The crowd brought bats, knives, pipes and other weapons.
A large fight broke out and as a result, the girl's mother, Eyvette Byrd, was struck on the left arm with a baseball bat. The woman's son, Demetrius Harris, was also struck with a bat, which might have fractured. He was rushed to Augusta University Medical Center for treatment.
Bell, the teen who later died, was stabbed in the throat during the brawl. Byrd began to take him to the hospital, but another altercation broke out, leading her to stop a stop sign in the subdivision. The teen (pictured below) took the car himself and attempted to make it to the hospital, but he pulled over when he saw a Richmond County Marshall unit sitting at Morgan Road and Dean's Bridge Road.
"He exited his own vehicle, and got into the car with the Marshall, who called for EMS and Gold Cross unit 27 arrived to transport Mr. Bell to the hospital," a sheriff's report says.
The altercation was broken up and all suspects had fled the scene prior to any officers arriving, the report says.
Byrd's teenage daughter told deputies that the entire fight was the result of an ongoing dispute at Glenn Hills High School.