Two local women have been arrested in connection with Sunday night's shooting inside Hooters restaurant in Augusta which injured two people.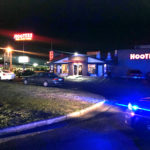 Authorities say 28-year-old Lataisha Hill (top left) fired a gun inside the front entrance after a fight, hitting a woman in her leg and a second person in the knee, authorities said. Both victims were believed to be shot from the same round, the sheriff's office says.
Aishah Shahiid, 26, was also charged in the crime. Both women were charged with two counts of aggravated assault and weapon possession.
Deputies responded to the restaurant at 2834 Washington Road around 8:43 p.m. Sunday and found a large disturbance with multiple persons involved.
Authorities say an altercation occurred in the foyer of the restaurant and at least one shot was fired, striking the victim, 31-year-old Crystal Merriweather of Augusta. A second victim, 38-year-old Lyonda Ware of Augusta, was struck in the knee and was also hospitalized.
"There were several weapons recovered at the scene. The investigation is still ongoing," a press release says.
For more crime news, pick up the latest edition of The Jail Report, sold in local gas stations.