Former teachers at an Evans childcare facility were arrested Tuesday for allegedly abusing preschoolers while working there, including an accusation one of them slapped a boy.
Lead teacher Pamela Ann Viscarra, 55, and assistant Hannah Diamond, 22, were charged with three counts of cruelty to children causing excessive or physical or mental pain. According to warrants, Viscarra grabbed a boy by his hair, snatched a girl over the back of a couch and slapped a child in the face. Diamond is accused of twisting a boy's head around, pushing a student away from her and throwing a child onto a changing table which caused the juvenile to cry "very hard."
Director Tina Westbrook told authorities this month that the preschool had received several complaints about the teachers. Westbrook reviewed footage from May 29, which showed both teachers treating children "in a very harsh manner." Both teachers were fired May 30, and Westbrook contacted DFACS and DECAL.
Westbrook reported the abuse to the sheriff's office on June 11. She released this statement to The Jail Report on Wednesday: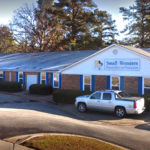 "During the course of routine video monitoring at Small Wonders, we identified a potential problem in one of our classrooms regarding staff interactions with several children. Because of our diligence in protecting the children, we self-reported the information to DECAL (our Georgia licensing agency) and the Columbia County Sheriff's Department. We partnered with these agencies to initiate a full investigation. Small Wonders holds itself accountable for being a responsible employer and care provider and will continue to provide children with a safe and a loving environment."
The daycare has operated in Evans since 1986. The website for Small Wonders claims that "ALL of the lead teachers have been with the center 13-25 years," but Westbrook said she needed to update that statement since both suspects had been with them just a short time. Viscarra had been at Small Wonders for less than a year while Diamond had been an assistant with them for four years.
A sheriff's report says Diamond currently works child care at Gold's Gym in Augusta, but the gym said Wednesday that she will no longer work for them since they discovered the arrest.
For more crime news, pick up the latest edition of The Jail Report, sold in local gas stations. Here is the cover.