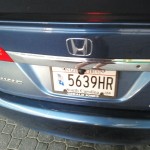 Two people were found shot to death at an Aiken home Friday and authorities believe a missing vehicle could help them catch the suspect.
The victims' names have not been released, but a press release said deputies found them dead at 1033 Buldra Lane in Aiken. The call came at 7:27 p.m. after a caller reported a shooting.
Deputies had to force entry into the home and found two people with apparent gunshot wounds, sheriff's Capt. Eric Abdullah said.
A vehicle that belongs to that residence is missing, described as a blue 2011 Honda Civic, bearing SC License 5639HR. The vehicle was also reported as having a Georgia tag (College) on the front bumper and tinted windows.
From Sheriff Mike Hunt: "We have sent out the description of the missing vehicle to law enforcement agencies throughout South Carolina; giving ourselves the greatest chance in finding it and any potential suspect(s). If anyone has a sighting on this vehicle, please call your nearest law enforcement agency."
If anyone has information on this case, we encourage them to contact the Aiken County Sheriff's Office at (803) 648-6811. Tipsters can remain anonymous by contacting CRIME STOPPERS at 1-888-CRIME-SC (1-888-274-6372)