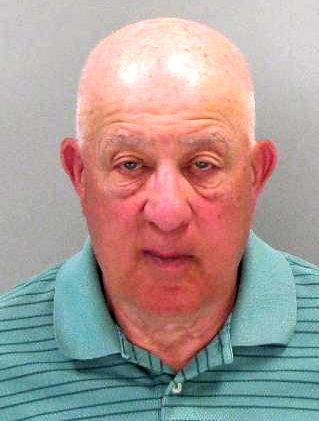 At least two ticket scalpers were arrested Friday outside Augusta National Golf Club after refusing orders to leave a restricted area, authorities said.
Douglas Weinstein, 71, of Flowermound, Texas (pictured), and Alvin King, were each arrested for disorderly conduct under the ticket scalping codes, according to sheriff's Capt. Scott Gay.
King has not been booked into the jail yet and his mugshot was not available.
Capt. Gay said both men were seen trying to buy or sell Master's badges and were told to somewhere else. When they did not obey orders, they were arrested for their illegal activity in the restricted area.
Before today's arrests, Richmond County authorities had no problems warning ticket scalpers and getting their cooperation. Apparently, signs warning Masters patrons about the ticket-scalping law were helping.
Under Georgia law, golf fans cannot buy or sell tickets within 2,700 feet of the Augusta National property. Outside of that area, only licensed sellers can buy or sell tickets.