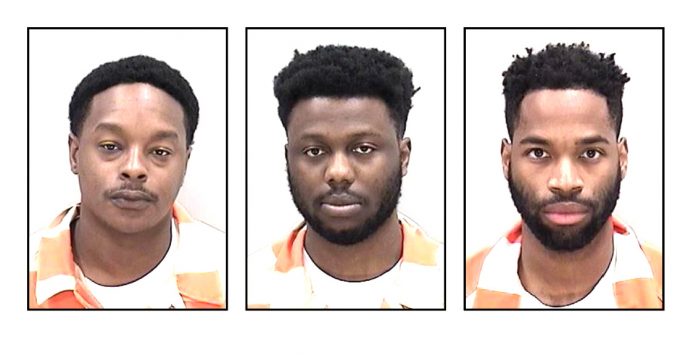 Three sailors stationed at Fort Gordon have been charged with gang-raping an 18-year-old female at a weekend party in Augusta, authorities said.
Jonathan Augustus, 24 (from left), Michael Billington, 24, and Teddy Diake, 24, were each charged with rape and aggravated sodomy, according to a press release from the Richmond County Sheriff's Office.
An investigation into the weekend party began Monday when it was reported that the teen had been assaulted by three men in a bedroom. It allegedly occurred Sunday during a party at an Augusta home.
"The female was treated at University Hospital and a number of undisclosed injuries were observed on her body," RCSO Sgt. William McCarty said in a press release. "The three male subjects were identified by other guests who were in attendance at the party."
The subjects were brought to the Sheriff's Office for questioning by Richmond County Investigators and NCIS. The subjects were later arrested.
The suspects are each stationed at Fort Gordon and are in the Navy.
For more Augusta crime news, pick up the latest edition of The Jail Report, sold in local gas stations.