Aiken County authorities have made a second arrest in the May 28th death of an elderly Wagener man whose body was found hidden under a tarp on his property.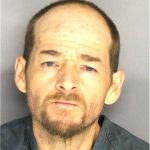 Nikki Price, 38, of Gaston (pictured above), was charged Wednesday with murder in connection with the death of 76-year-old Kenneth Goodwin. A warrant says she struck the victim in the head and face several times, killing him. She then hid his body under a plastic tarp to conceal his death.
Authorities say she is the boyfriend of 42-year-old Christopher Trueblood (shown at right), a meth dealer who was charged in July with the same murder and grand larceny.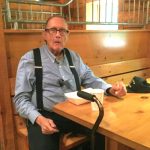 Goodwin (pictured with cane) was found dead May 28 under a tarp in the yard of his home on South Main Street, authorities said. Lifelong friend Wesley Wooten found him under the tarp between his shed and his home.
Goodwin's house appeared to have been burglarized and several items removed from his home. The victim died from trauma inflicted to his head and body.
"It appears that he died several days prior to the discovery of his body at his residence," the coroner said.
Goodwin's red Ford Ranger was also stolen.
A friend told local reporters that she believed the victim was targeted because he was known to carry money in his wallet. He was a Navy veteran.
In their news story, WRDW-TV noted that Goodwin was a registered sex offender. He has a 1995 conviction for commit or attempt a lewd act on a child.
A family friend says he lived alone but had some family in Wagener and in Kentucky.
The suspect and his girlfriend lived nearby in neighboring Lexington County on Irvin Jumper Street in Gaston, according to records.
For more crime news, pick up the latest edition of The Jail Report.