An Aiken County man arrested Thursday night for repeatedly breaking into the animal shelter since 2019 is accused of only stealing female dogs and then releasing them.
One of the dogs was found in the parking lot with a swollen vaginal area, according to a sheriff's report. "A vet technician looked at the dog and found it to be leaking from the vaginal area but could not advise what kind of or where the fluid was sourced from," the report says.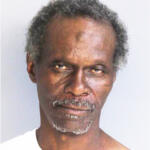 On Thursday, sheriff's officials arrested 64-year-old Donald James of Monetta on five counts of burglary. Sheriff's Capt. Eric Abdullah  confirmed that authorities are investigating the possibility that the burglar was having sex with the dogs.
"More charges may be forthcoming," Capt. Abdullah said.
Surveillance images from five different burglaries at the Wire Road shelter between 2019 and 2020 show the same man jumping a fence. Once inside, he usually broke a latch to an enclosed kennel and took a female dog, according to an arrest warrant. Most of them happened in the middle of the night.
https://youtu.be/fkuFEjnAA7I
Since February 2019, the black male suspect gained access to the animal shelter six times after hours and removed a dog from its kennel, with the latest incident occurring on August 30, a sheriff's press release said.
"After each incident, shelter staff located the dogs on property with the exception of one dog," sheriff's Capt. Nick Gallam said in an earlier press release. "During the most recent incident (in August 2020), shelter staff observed vaginal trauma on the dog the following morning."
James has a history of arrests in Aiken County dating back two decades, including charges of drug possession, domestic violence, fail to pay child support, malicious injury to personal property, assault & battery, and traffic offenses. He remained in jail on Thursday night. His previous mugs are shown below.