An Aiken man was shot and thrown from a moving vehicle Saturday night along Edgefield Highway, according to Aiken County authorities.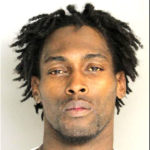 Jonathan Maurice Cochran, 36, of Sandy Lane (pictured), was pronounced dead by paramedics despite heroic efforts to save him by several Good Samaritans who witnessed the horrific scene.
Now Aiken County authorities are asking for your help. If you have any information, please call the sheriff's office.
The incident happened around 10:50 p.m. Saturday on Edgefield Highway near Jack Jones Street, according to a press release.
"A 911 caller reported a person being thrown from a moving vehicle," the ACSO press release says. "When the responding deputies arrived on scene, they found the victim, a black male, with apparent gunshot wounds to his upper torso. Witnesses told deputies that the victim was pushed out of a dark in color 4 door car that did not stop. Witnesses rendered aid until deputies and Aiken County EMS arrived on scene. The victim was pronounced deceased by EMS."
If anyone has any information on this case, please contact the Aiken County Sheriff's Office at (803) 648-6811. You can provide information anonymously through Midlands Crime Stoppers. Your tip could earn you a cash reward of up to $1,000 for information leading to the arrest of the person(s) responsible for any crime. Phone tips can be made by calling 1-888-CRIME-SC (888-274-6372). Internet tips can be made to www.midlanscrimestoppers.com. Simply click "Submit a Tip."
Note: If anyone has a better photo of the victim to share, please text it to The Jail Report at 803-487-3224.
For more crime news, pick up the latest edition of The Jail Report.