A young suspect who died while in custody of the Aiken County Jail suffered a non-traumatic brain injury, the coroner said.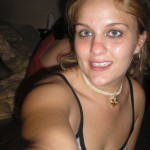 Connie M. Presley, 24, of Matthews, Ga. (shown at right from her Facebook page) , was at the jail at 4:15 a.m. Friday when she went into medical distress. Deputies and medical personnel began life saving measures while Aiken County Emergency Medical Services (EMS) was notified, jail Capt Nick Gallam said in a press release.
EMS arrived at the Detention Center around 4:23 a.m. Friday. EMS transported Presley to Aiken Regional Medical Center, where she was treated, but passed away Friday afternoon.
"It was determined that Ms. Presley had a significant brain injury which was non traumatic in nature," Coroner Tim Carlton said. "No foul play is suspected at this time."
SLED has been brought in to investigate, Capt. Gallam said.
Presley was arrested Thursday by the sheriff's office on suspicion of receiving stolen goods. She has a history of theft and shoplifting in Richmond County, according to county records.