T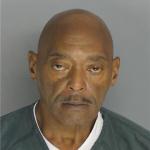 he Aiken County Coroner's Office along with the State Law Enforcement Division (SLED) is investigating the death of an inmate at the Aiken County Detention Center.
Dion M. Cook Sr., 53, of Aiken, was an inmate at the detention center when he was found unresponsive in the kitchen area shortly after 6 a.m. Thursday.
Cook was transported to Aiken Regional Medical Centers where he was later pronounced dead. An autopsy is scheduled for Friday morning in Newberry.
"No foul play is suspected at this time," Coroner Darryl Ables said in a press release.
According to The Jail Report's records, Cook was booked into the jail on Oct. 29 for a charge of driving under suspension. The month before that, he had been jailed on charges of driving under suspension and unlawful carrying of a pistol.
He's at least the second inmate to die at the jail this year. In January, Warren A. Pridgen, 62, of Graniteville, was discovered unresponsive by other inmates.
No suspicious injuries and no foul play was suspected in that case either. Pridgen had a medical issue for which he had refused treatment.