Two Aiken County men have been charged with beating a kidnap victim in the head repeatedly and then burning his body and burying him.
On Tuesday, investigators obtained warrants on Austin Bernard Martin of Aiken and Dahkir Anderson of Belvedere for murder and "destruction, desecration or removal of human remains." Both men are 21.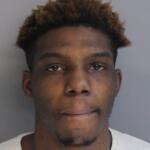 On Wednesday afternoon, the coroner said DNA testing confirmed the body found buried in a wooded area in the 500 block of Harbor Drive in Aiken was 29-year-old Jhaz Allison of Aiken. The cause of death remains under investigation.
Martin and Anderson were arrested on June 25 in relation to the kidnapping of Jhaz Allison. Sharla Hamilton was also charged in the case.
On June 29, the Aiken County Coroner's Office and the Aiken County Sheriff's Office responded to the 500 block of Harbor Drive after receiving information of a buried body. The body was recovered from the woods there.
say the suspects beat the victim in the face repeatedly with firearms, hands and feet, which contributed to his death. Next, they "burned the victim's body and buried him."
Allison's mother told deputies that he was taken June 24 from Smallridge Street by three black men with guns. Last week, Anderson, Martin and Hamilton were charged with attempted murder, kidnapping, weapon possession during a violent crime, unlawfully carrying a pistol, posses-sion with intent to distribute marijuana and cocaine, meth trafficking, ecstasy possession and pill possession.
If anyone has any information on this investigation, ask them to contact the Aiken County Sheriff's Office at (803) 648-6811. You can provided information anonymously through Midlands Crime Stoppers.
Your tip could earn you a cash reward of up to $1,000 for information leading to the arrest of the person(s) responsible for any crime.