An Aiken County homeowner shot one of the burglars who tried to rob him during a home invasion in Windsor early Tuesday, a move the sheriff quickly supported.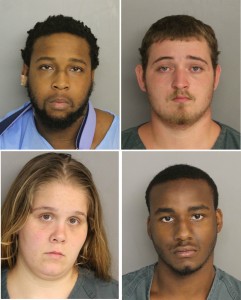 The home invasion on Cedar Road led to the quick arrest of four people, including Dontrell Washington-Allison, who was shot in the shoulder and stomach by homeowner Emilio Rojas.
"I support Mr. Rojas' actions and the rights of homeowners to defend their families, property and themselves," Sheriff Michael Hunt said in a press release.
The victim will not be charged for shooting the suspect.
Deputies say three suspects broke into Rojas' home, demanding money and striking him several times in the head with a weapon. Rojas and family members told authorities that they fought with the suspects and that during the altercation Rojas was able to retrieve his pistol and shoot one of the subjects.
During the incident, one of the other subjects was able to take Rojas' pistol, some cash and a cell phone. The subjects then ran from the home.
The Aiken County Blood Hound Tracking Team and Investigators responded to the residence. While the perimeter was established one of the subjects, 21-year-old Eric Hurkes was apprehended by Deputies on Wren Road. Three more subjects were arrested at Aiken Regional Medical Center, including Allison, who was there for treatment of two non-life threatening gunshot.
Two other subjects, 23-year-old Kira Marie Bryant and 20-yer-old Jevarius Delonte Allison who were at ARMC, were also arrested for involvement in the home invasion.
All suspects were transported to the Aiken County Detention Center and have been charged with burglary, armed robbery and weapon possession.
The Aiken Department of Public Safety assisted in this investigation.
Allison, the man who was shot, is the same man charged in 2013 in the golf cart thefts in the Hammonds Ferry area of North Augusta.
(Pictured above: Dontrell Washington-Allison (top left), Eric Hurkes (top right), Kira Marie Bryant (bottom left), and Jevarius Delonte Allison.)