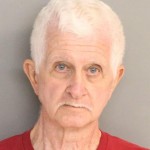 A former Aiken County Youth Coach who served prison time for molesting boys on his team has been caught with a new video of him engaged in child sex, authorities said.
William "Bucky" Hicks Jr., 69, of Graniteville, was arrested this week on 14 charges connected to sexual exploitation of minors.
The arrest could seem outrageous to the Aiken County community, who saw the sex offender given a 10-year sentence in 2009 after he confessed to abusing three boys decades before his arrest. It's unclear why he was released from prison so early, free to victimize more children. But inmates typically can be released for good behavior.
In the newest case against the registered sex offender, investigators received a cyber tip that Hicks had uploaded child pornography. A search warrant was executed at his residence at 335 Avis Street in Graniteville on Tuesday.
"Investigators discovered photos on Hick's phone of him engaging in a sex act with a minor victim," a press release says.
This is the same man arrested twice before of the same allegations of abusing boys, in 2002 and in 2008. The 2002 case never went anywhere because the victim refused to cooperate. But three boys finally stepped forward and helped prosecutors build a case in 2008.  He was ultimately convicted on statements from adults he sexually abused as children decades before.
In 2009, Judge Jack Early sentenced Hicks to 10 years in prison and five years probation after he pleaded guilty to three counts of criminal sexual conduct with a minor in the second degree and one count of a lewd act on a child, according to media reports.
Prosecutors said the specific cases involved three male victims, two from the 1970s, and one from the late 1980s. He was a baseball coach in Graniteville and a lot of his victims were young boys on the baseball team, prosecutors said. But there were some alleged victims that weren't on the team.
Sadly, there were other victims who had brought charges back in 1999 and 2002, but those victims stopped cooperating, so those charges were dismissed.
Finally, though, police got an anonymous e-mail in September 2007. It was from a friend of one of the victims, and when that victim was approached by law enforcement he confirmed that it had happened.
In court, one of the victims spoke bout the emotional damage that Hicks had done to him and a lot of other people. The defendant apologized to the victims and confessed his crimes.
In the newest case, Hicks is charged with six counts Sexual Exploitation of a Minor, First Degree (§16-15-395), a felony offense punishable by up to 20 years of imprisonment on each count; and eight counts of Sexual Exploitation of a Minor, Third Degree (§16-15-410), a felony offense punishable by up to 10 years of imprisonment on each count.
The case will be prosecuted by the Attorney General's Office.
For more crime news, pick up this weeks edition of The Jail Report, sold in local gas stations for $1.50.