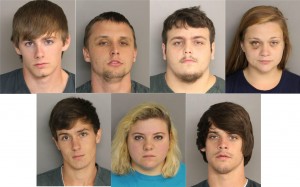 Aiken County authorities have tied a theft ring to nearly 100 cases of car break-ins and residential burglaries over the last year.
Seven people (pictured) have been arrested in the theft ring, and the group is also being investigated for similar crimes in Barnwell, Edgefield and Lexington counties as well as Columbia County in Georgia, according to sheriff's Capt. Eric Abdullah.
Arrested on charges that range from burglary and breaking into vehicles to possession of stolen property and drug possession are: Tyler Keith Durden (19 yoa) of Langley, SC, Rodney Lee Anstett Jr (18 yoa) of Gloverville, SC, Matthew Blake Eustance (22 yoa) of Gloverville SC, Collin Bradford Smith (19 yoa) of North Augusta, SC, Avery Rick Atkinson (20 yoa) of Gloverville SC, Whitney Lee Anstett (19 yoa) of North Augusta, SC and Sydnie Jean Bell (21 yoa) of North Augusta, SC.
If you have information about any related cases, please contact the Aiken County Sheriff's Office at (803) 648-6811 or CRIMESTOPPERS at 1-888-CRIME-SC.