An Aiken man is dead and two passengers in critical condition after a high-speed chase with police at 4 in the morning Sunday, authorities said.
The driver, 27-year-old Andre Jackson Jr. (pictured), was not wearing a seat belt during the chase and struck a tree, killing him, according to Chief Deputy Coroner Darryl M. Ables. The collision occurred at 4:50 a.m. at the intersection of Chesterfield Street and Columbia Avenue.
"Jackson was the unrestrained driver of a 2005 Mitsubishi 4-door that was traveling at a high rate of speed and being pursued by Aiken Department of Public Safety officer's when the vehicle left the roadway and struck a tree," Ables said in a press release. "Two passengers in the vehicle were taken to Augusta University Medical Center in critical condition."
The chase started in response to a residential burglary in which the homeowner gave a description of the vehicle, officers spotted this vehicle and attempted to make a traffic stop, police said. The pursuit lasted less than a half-mile before the accident occurred.
His Sister Speaks. Jackson's younger sister, Zaria Dixon, told The Jail Report that she is not sure why her brother didn't stop for police, but she knows he wouldn't have committed the burglary.
"He didn't do that," she said. "Anybody can describe a car."
As for why he was up so early in the morning, Dixon said, "That is him. He always do that."
Dixon said she learned of the terrible news on Facebook at 9 a.m. Sunday. She wanted the community to know that her brother was a great guy.
"He was helpful. He was charming. He wasn't a troublemaker at all," she said. "He loved everyone. He was loved by everyone. He loved his kids and would do anything for them. It's just sad that he is gone."
Zaria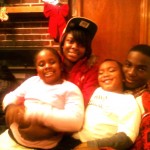 is pictured here (in hat) with Andre Jackson and two of their cousins several years ago.
Jackson reportedly has three children born to two different women, including a son who was born four months ago to his fiancé. He is a high school graduate and previously worked at a local grocery store as a bagger and stocker. He has five siblings, including Zaria Dixon.
"We so close and nobody could tear us apart," Zaria said. "We have so many memories. … He always kept me laughing and taught me right from wrong. I always looked up to him. Now he's looking down on me. I always told him everything and he told me everything, it's hurting me so bad knowing that he's not here and I don't have nobody to turn to when I'm having problems. I love him so much and wish he was still here to guide me in the path that he started for me. He will always remain in my heart. There's always a part of him that's in me."
Jackson was also remembered by friends and family on Facebook:
Marie Powell said: "Rip Andre Jackson. You were truly a genuine person. Prayers to other friends and especially his family. May God give you the peace and strength that you need."
"(He) always had a smile an a hug to greet you with an would keep u laughing.. He will truly be missed," wrote Chantavia Fuller.
From Imani Wedderburn: "I know I've only known you for almost 2 years but you were the most kind hearted person ever and sooo funny you kept me laughing when we used to work together I will never forget you and ill keep your kids and family in my prayers."
The Jail Report has requested more information from the Aiken Department of public Safety on the purpose of the chase and an incident report. We are waiting to hear from them.
The accident is being investigated by the Aiken County Coroner's Office along with the South Carolina Highway Patrol, MAIT, and the Aiken Department of Public Safety.
Jail Report Note: If you have a better photo of Andre Jackson or photos or memories of the two passengers he was with, please text it to 803-487-3224.