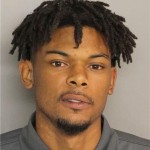 An Aiken man is sitting in jail on charges that he beat a 2-year-old girl to near death.
Anthony Tyrone Hurst Jr., 21, was charged  with abuse to inflict great bodily harm upon the child.
According to a warrant, Hurst is a guardian to the child and was watching the girl at the time of the beating. He allegedly struck the toddler across the body so badly that the girl sustained multiple lacerations to her liver, causing a "substantial risk of death due to the impairment of the liver."
The violent beating to the girl allegedly occurred last Wednesday (June 15) at the suspect's home, 238 Plymouth Drive in Aiken. She was treated for the serious injuries and has been released from the hospital, authorities say.
Hurst remains in the Aiken County Detention Center on the single charge. He is the same man charged in 2015 with attempted armed robbery, weapon possession and filing a false police report (felony).
For more crime news from the CSRA, pick up this week's edition of The Jail Report, sold in local gas stations for $1.50.