An Aiken man has died from injuries suffered after crashing his motorcycle on the shoulder of the road on Sunday, according to the coroner.
Billy J. Hallman, 54, was pronounced dead Monday afternoon at Augusta University Medical Center, according to Coroner Darryl Ables.
Hallman crashed his 2017 Yamaha motorcycle at 10:44 a.m. Sunday on Wheat Road near Redds Branch Road in Aiken. He was riding his motorcycle east when he ran off the right side of the road, lost control, and crashed onto the shoulder of the road, Ables said.
EMS transported Hallman to the hospital where he later succumbed to his injuries.
"Toxicology analysis is pending. South Carolina Highway Patrol is continuing with the investigation," Ables said in a press release.
The biker's sister, Lisa Sanders, posted this message Monday on Facebook, with a photo of him in the hospital: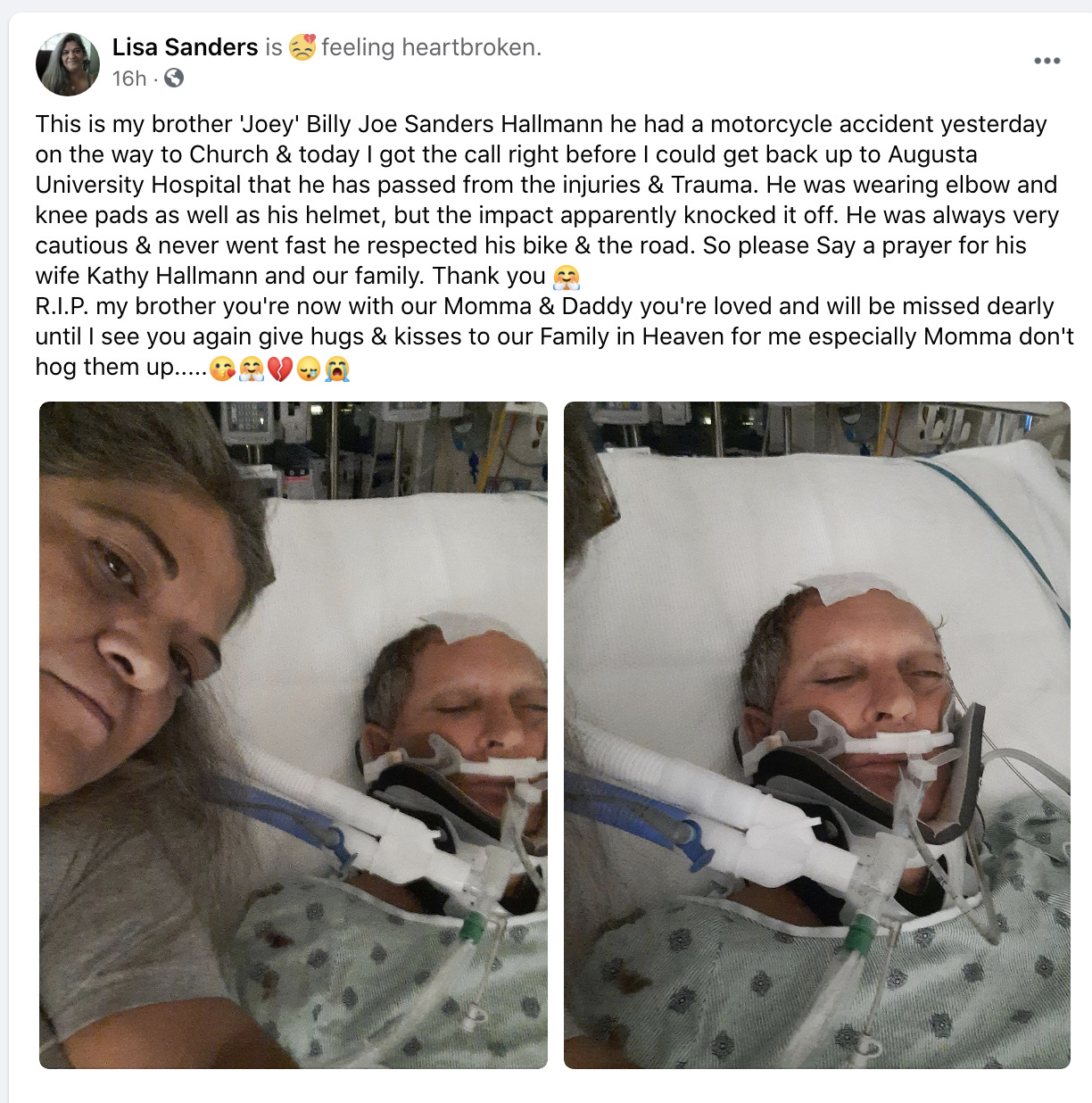 "This is my brother 'Joey' Billy Joe Sanders Hallmann. He had a motorcycle accident yesterday on the way to Church & today I got the call right before I could get back up to Augusta University Hospital that he has passed from the injuries & Trauma. He was wearing elbow and knee pads as well as his helmet, but the impact apparently knocked it off. He was always very cautious & never went fast he respected his bike & the road. So please Say a prayer for his wife Kathy Hallmann and our family. Thank you. ….  R.I.P. my brother you're now with our Momma & Daddy you're loved and will be missed dearly until I see you again give hugs & kisses to our Family in Heaven for me especially Momma don't hog them up."