An Aiken couple were charged Friday with engaging in a sexual threesome with a horse on two occasions last year – and recording it on video!
Abigail Louise Ronco, 30, and her husband, Damian Alexander Connor, 31, are charged with two counts each of buggery.
Warrants say Ronco did "commit the abominable crime of buggery … by having vaginal intercourse with a horse" on their property at 169 Willow Run Road. The incidents took place in May 2019 and June 2019, according to warrants.
Also, Connor is accused of masturbating a horse and manually assisting Ronco in having vaginal intercourse, according to warrants.
The videos were discovered after Connor was charged last week with downloading and distributing child pornography. Aiken County sheriff's authorities found the horse sex video on his electronic device, leading to a confession.
Ironically, Ronco posted something about a sexual assault on a horse last September. That case is still under investigation.
Here is her Facebook post from Sept. 22, 2019: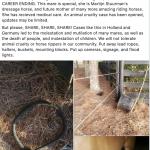 "WARNING TO AIKEN, SC HORSE OWNERS! Yesterday between 11:30pm- 5am (9/21/19) Someone HARRASSED one of our mares in her paddock. Found her HOBBLED, and TIED by her neck to a tree. She was in pain. One of our large buckets was moved to the area she was found, a bucket that lives in the barn with the feed. Our vet confirmed our mare was the victim of some form of SEXUAL ASSAULT. She has moderate vaginal bruising, with abrasions, abnormal amounts of mucus/fluid in the vaginal vault, and debris in a very irritated uterus. She is very lucky that she did not permanently damage her neck, spine, or legs. Injuries that are CAREER ENDING. This mare is special, she is Martijn Stuurman's dressage horse, and future mother of many more amazing riding horses. She has received medical care. An animal cruelty case has been opened, updates may be limited.
But please, SHARE, SHARE, SHARE! Cases like this in Holland and Germany led to the molestation and mutilation of many mares, as well as the death of people, and molestation of children. We will not tolerate animal cruelty or horse rippers in our community. Put away lead ropes, halters, buckets, mounting blocks. Put up cameras, signage, and flood lights."
For more crime news, pick up today's new issue of The Jail Report, sold in gas stations or online at thejailreport.com.