An alcoholic Aiken mother was charged Thursday with child cruelty for beating her 8-year-old son with a broken mop and pipe, according to police.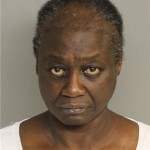 Sylvia Simpkins, 50, of Camellia Street NE, confessed that she had a drinking problem when confronted last month by police with allegations she had tortured her son with violent beatings.
According to an Aiken public safety report, Simpkins "admitted that she needed help" and said it would be best if her children were taken from her "while she got herself together."
The boy showed police marks on his back and said his mom hit him on the back regularly. He told authorities about several violent beatings by his mother:
• "On one particular incident, he was struck in the arm by his mother with a piece of broken mop."
• "He was struck by his mother with a belt causing marks on his back."
• "His mother typically strikes him on the back and had struck him with a pipe causing marks on his arm."
The boy's 14-year-old sister also told authorities that her mother also struck her on the back with a closed fist, which she wears a ring on, and has "struck her in the face as well," a police report says.
Simpkins was arrested Thursday on a warrant for cruelty to children and was booked into the Aiken County Detention Center. She was later released on bond.
The children are staying with extended family, the public safety report says.