An 18-year-old Aiken man who was threatening to kill himself was found in the kitchen of his parents' home Thursday night, lying on the floor covered with ketchup and holding a knife.
Tyler Redd apparently wanted his parents to think he had tried to commit suicide, an Aiken County Sheriff's report said.
(This is one of many stories in this week's edition of The Jail Report, sold in local gas stations for $1.50.)
When deputies arrived at the Redd's Aiken home, the man's parents were in the front yard. The two were winded and scared. Redd had attacked both of them, punching his father in the face and hitting his mother before trying to put her in a headlock.
The 57-year-old woman said she believes if he had managed to get his arm around her neck, he would have killed her.
Redd, who was extremely drunk, would not talk to deputies. Instead, he kept yelling, "F*** you dad" and threatening to kill himself. His parents said that their son abuses alcohol and prescription drugs and has some mental issues that they are trying to deal with, the report said.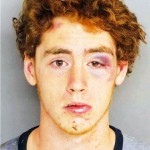 They had heard him arguing with his girlfriend in his room and his father went to check on them. Redd grabbed a bottle of pills from his closet and tried to swallow some, but his father rushed him. That's when he began hitting his dad who hit him back to stop him. He then took Redd to the floor to restrain him, the report said.
The teen got loose and ran outside where he went after his mother.
Deputies arrested Redd, who continued to try to hurt himself by banging into the kitchen counter and slamming his head against the cabinets. When he was placed into the patrol car, the officers put a safety helmet on his head to prevent him from hurting himself further.
He was taken to Aiken Regional Medical Center for a mental health evaluation. He was cleared by the doctor to be taken to jail, the report said.