Amy Swann defied easy description.
She was passionate, funny, difficult, smart, proud, kind. If you needed help, she was a fierce advocate. If you were a bully, she was your worst enemy.
Amy loved cats and children and those who had been dealt an injustice. She also loved you if you showed an independent and curious mind, a sharp wit, or a loyal heart, all qualities that she possessed in spades and valued in others.
An award-winning reporter and writer, Amy, 53, hailed from the small southeast Georgia town of Claxton, where the family lived with Minnie Kicklighter, Amy's strong-willed, indomitable grandmother, who could cook like nobody's business.
After earning her degree in Communications from Georgia Southern College, Amy began her career at the Claxton Enterprise. She quickly became a beloved and respected reporter and columnist for The Augusta Chronicle and the Savannah Morning News. Among her many accomplishments, she was most proud of her Associated Press awards, which included first place for Deadline Reporting in 1987. In the newsroom, she was an editor, teacher and mentor, in fearless pursuit of the truth always and at all costs.
Amy spent the last seven years of her life as a staff writer for The Jail Report, fighting crime with her creative, and sometimes amusing, takes on local crime in the CSRA.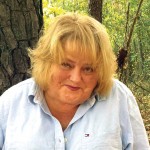 She spoke like an angel, except when she was speaking like the devil, and she wrote with a clear and impassioned vision that inspired countless others.
Amy's greatest attribute-and her biggest challenge-was her heart. It was as big as all outdoors, but it failed her in the end, from a congenital disease that took her daddy, John Swann, when he was 47. She never stopped missing him.
On the other hand, her mother, Annette Kicklighter Swann, lived to a great age. In Miss Annette's last years, Amy was a faithful and loving caretaker who never left her mother's side and met her every need.
Amy gave so much to so many.
She is survived by four cats, an extended family, and more friends than most people make in ten lifetimes. She fought to the end to live life on her own terms, and she pretty much succeeded.
Rest in peace, our Amy. We love you. We will miss you.
A celebration of Amy's life will be held in the large pavilion at Pendleton King Park, 1600 Troupe Street (across from the intersection of Woodland Avenue and Kissingbower Road) in Augusta, at 11 a.m. Saturday, December 31. – See more at: http://www.legacy.com/obituaries/augustachronicle/obituary.aspx?n=amy-swann&pid=183227864#sthash.1GzKoZ0d.dpuf