Another inmate has died at the Aiken County Detention Center, although jail officials say there does not appear to be anything suspicious in this case.
James B. Oakman, 57, of Aiken SC , an inmate at the Aiken County Detention Center, was found unresponsive by staff members at approximately 11:05 am today, Coroner Tim Carlton said. He was later pronounced dead at the detention facility. There was no evidence of injury or trauma. No foul play is suspected at this time.
Jail records show he was arrested in February for two counts of violating a restraining order and one count of trespassing.
SLED has been called in for an independent investigation, sheriff's Capt. Nick Gallam said in a press release.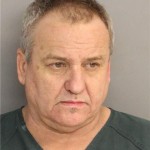 "A detention officer was conducting a routine check when they noticed an unresponsive inmate in a cell. Aiken County EMS was notified while detention officers and onsite medical staff performed life saving measures until EMS arrived," the release said.
It is the third inmate death this year. The other two:
On Feb. 23, Jimmy Kennan (pictured at right) died after being found unresponsive in a shower. The 58-year-old man was rushed to Aiken Regional Medical Center where he was treated and subsequently passed. An autopsy shows he died of natural causes, the coroner said.
On May 16, Adam Crow (pictured) hung himself while isolated in a cell. He was arrested earlier that day for DUI, disorderly conduct and no proof of insurance. SLED is investigating that death, and Crow's mother has publicly questioned why the jail wasn't properly monitoring an inmate who was supposed to be on suicide watch.