A Grovetown suspect has been arrested for shooting a local teenager Saturday at the gas pumps outside a Circle K store in Evans.
Here is the specific details released by the Columbia County Sheriff's Office: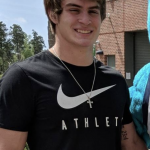 "We received a call stating that a subject later identified as Logan Etterle, 19, of 4777 Cobbham Road Appling, pulled up to the gas pumps along with his friend Jalen Quinton Anderson, 19, of 700 Brownsfield Lane Evans.
There they encountered a gray Toyota Camry occupied by Jordan Renee Stevens, 18, of 603 Bon Air Drive Augusta and Julius Nathan Williams, 19, of 1615 Tralee Court Grovetown.
Both Logan and Julius have had bad blood about Julius mistreating Jordan, who is Julius' girlfriend. Logan got out of the car and an argument ensued. Julius got out of the car with a semi auto pistol in his hand.
Logan asked, "Oh are you going to shoot me now?" and Julius fired two shots at him, hitting him in the arm and abdomen. Logan then jumped back in the passenger seat of his car and Julius followed him and fired one more round at him through the side window.
Julius then got back into his vehicle and fled the scene with Jordan driving. This was all confirmed by multiple witnesses on scene at the time of the shooting.
The victim was transported to Doctors hospital and is in surgery. Suspect is in custody."
The file mugshot shown above for Julius Williams is from a 2019 arrest for DUI. – drugs.