The Richmond County Sheriff's Office arrested Deputy Lamar Andrews on Tuesday for the charge of Public Indecency which occurred at Gold's Gym, 596 Bobby Jones Expressway, Augusta.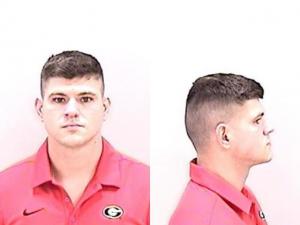 On July 6, the Sheriff's Office responded to the location after receiving a call from a member and a staff representative who reported that a male subject was masturbating in the sauna of the business. An internal affairs review as well as a criminal investigation was initiated which has led to the arrest of Andrews, a press release says.
"Andrews has been terminated from the Sheriff's Office effective this date. Andrews has been committed to the Charles B. Webster Detention Center," said sheriff's Sgt. William McCarty in a press release.
Andrews was hired in October of 2018 and was assigned to the Field Operations Division in the South Precinct.
Original story: 
Richmond County authorities confirmed Tuesday that they are investigating a deputy for allegedly masturbating inside a Gold's Gym sauna next to another member.
"We are investigating internally and CID is looking into it as well," sheriff's Lt. Glen Rahn said.
A public indecency report says the incident took place around 2:30 p.m. Monday at the Bobby Jones location. A 43-year-old gym member told deputies that "he observed a white male with black hair masturbating next to him while inside of the sauna room," the report says.
The male was described as a white male, 25-30 years of age, between 5'06-5'10, weighing 160-180lbs, with brown hair.
The victim said he noticed what was going on and left the sauna room to notify gym staff. The gym's maintenance man then went inside the sauna room and observed the male masturbating before he covered himself with a towel, a report says.
The suspect left the gym after the incident and was last seen walking towards Walmart wearing a red shirt and black shorts. The member then contacted 911 to report the incident.
The gym later found out it was a deputy. They have canceled his membership, general manager Brooks Reames told The Jail Report.
"Here are at Gold's Gym, we take matters like this very seriously," Reames said. "We have taken immediate action in regards to this issue and are allowing law enforcement to handle the criminal matter."