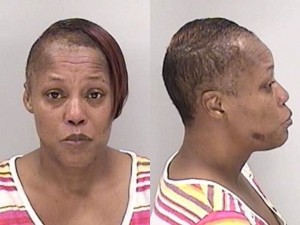 An Augusta woman has been charged with first-degree child cruelty after shaking a baby, causing the 6-month-old boy severe head trauma and bleeding to the brain, authorities said.
(For more crime news, pick up this week's Jail Report. Cover: http://bit.ly/1gbUyGP)
Delores Douglas Lawrence, 45, of Deen Avenue, was arrested last Thursday in connection with the injuries to the child, who she was watching for a few days, according to a sheriff's report.
Lawrence had the child from June 22-24. Last Wednesday, when she brought the child back to his father Marcquise Heggs on Neptune Drive, the child appeared hurt.
Heggs said his son looked hurt and he asked Lawrence about him. "Nothing," Lawrence reportedly said. "He is sleeping hard on one side."
Heggs then told someone to call an ambulance, and the child was rushed to GRU Hospital. Lawrence left the residence before the ambulance arrived. GRU staff told investigators that the child appeared to be the victim of abuse and had bleeding on the brain.
Heggs said he and the child's mother, Jaquita Washington, had been together ever since the child was left with Douglas.
A warrant identified the child as Marquayvion Washington and said the suspect shook the baby "causing severe head trauma and bleeding to occur on his brain."
Lawrence remained in the Richmond County Jail on Wednesday without bond.
(Note: The Jail Report has sought for three days to get the relationship of the suspect to the child in this case and the condition of the child. We contacted the sheriff's Public Information Office, but sheriff's Sgt. Michael Shane McDaniel Sr. said he was unable to get CID investigators to give him that information.)