Richmond County authorities have arrested a man in last week's shooting death of a 15-year-old Augusta boy.
Jamall Octavius Duke, 25, of Laural Oak Drive (shown above 2017 mugshot), has been charged in the June 4th gang slaying of 15-year-old Alphonso Hornsby, according to a press release.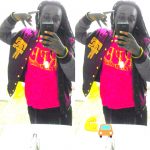 The teen victim (pictured at right) was shot eight times on the 3600 block of Rolling Meadows Drive.
Duke has been charged with murder and weapon possesson. He was being held at the Charles B. Webster Detention Center.
The motive is gang-related, authorities said.
An autopsy shows the teen victim had consumed alcohol and marijuana and had other drugs in his system when he was killed. His Facebook page shows him posing multiple times with gang symbols.