As parents descended on Josey High School on Tuesday morning during a threat-related lockdown, one woman refused to leave and injured a school officer, authorities said.
Christine Jennifer Torres, 33, was jailed on one felony count of obstruction of a law enforcement officer. The arrest comes after a viral video showed a suspect wrestling with an officer after trying to withdraw her child.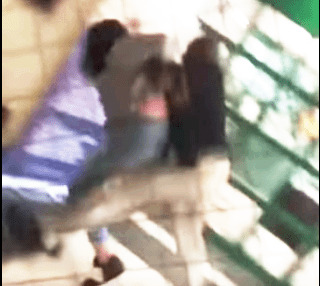 According to an arrest warrant, Torres came to the entrance and caused a disruption along with other parents.
Torres "would not comply with any of Corporal (Anthony) DuBois' verbal commands and became combative." A second officer attempted to direct her towards the front door. The suspect then struck the second officer in the face, mouth, and head with her fist, causing the officer to sustain bleeding from his top and bottom lip and his front tooth, the warrant says.
The school district says multiple schools received information about rumors of potential threats circulating on social media. Schools impacted were: Murphey Middle School, T.W. Josey High School, Lucy C. Laney High School and Glenn Hills High School.
"Though we do not believe the threat or rumors made today are credible, we take every report of a threat seriously and investigate every incident fully," said Lynthia Ross, School Public Relations Officer. "Out of an abundance of caution, when threats are reported, we take additional safety measures to protect our students and staff,"
The district notified students' families of the potential threat. In some cases, they designated an Emergency Alert level to monitor movement of students through a school or limit public access to a school facility.
"If access to a school facility is limited, it is to maintain order in the school and to respond to incidents using a safety first approach," Ross said. "We ask that all family members or visitors to our school campuses support our school staff and School Safety and Security Officers by following their directions patiently as they work to ensure the safety of our students and staff."
The threats follow a violent series of shootings at two football games in Augusta and a double-homicide of two young men on Cascade Drive that remains unsolved.
Torres was being held on a $9,000 bond.