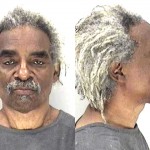 An Augusta father was arrested Friday for locking his 17-year-old daughter out of the house and refusing to let her back inside.
Donald Franklin Williams, 66, of Tamarind Way, was charged with deprivation of a minor.
The suspect's daughter called the sheriff's office at 11:10 p.m. Friday, telling deputies that she was shut out of her home by her father. A sheriff's report describes what happened when deputies arrived at her home:
Mr. Williams would not cooperate with deputies and refused to let his daughter inside the residence while deputies were there. After several attempts to get him to unlock the door, the teen daughter was able to get through a front window. Once inside, deputies confronted an angry and uncooperative father.
"Donald stated that his daughter and him got into a verbal dispute over the dogs that were at the residence earlier today," a report says. "Donald stated that his daughter then left the house to go to neighbor's house."
She went to the neighbor's home at 6 p.m., and he decided not to let her back in when she returned.
For the deputy's report: "The victim is a juvenile (17) under the age of 18 … and lives
with the suspect. I asked the suspect several times to let the victim inside the residence
but he stated he will not allow her back inside while deputies were on scene."
While a 17-year-old in Georgia is legally allowed to leave their home if they choose, Georgia parents are legally required to support their minor children. Supporting your kids includes providing food, clothing, shelter, and basic care. Failing to provide for your kids can lead to criminal charges in the Peach State.
Mr. Williams was arrested and the teen turned over to her 21-year-old brother. The suspect remained in jail on Sunday night.