A Greenbrier High School student was arrested Monday for writing a bomb threat on the bathroom wall to get out of in-school suspension, authorities said.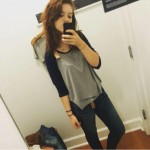 Madelyn Blanche McAdams, 17, of Evans (pictured at right from her Facebook page), was charged with terroristic threats and acts with a bond set at $2,600.
A school resource officer was made aware of a threat written Friday inside a girl's bathroom stall that said: "Stadium and School Go Boom at 12."
According to sheriff's Maj. Steve Morris, McAdams was one of many students around the area at the time. She was interviewed and confessed, saying she did it to get out of ISS, or in-school suspension.
The Columbia County Sheriff's Office sent out a press release with the teen's picture to warn other students what can happen by making bomb threats.
"The school had to be evacuated and cleared before students could resume their normal activities. So these things are intolerable," Maj. Morris said. "They cost money as well as – and maybe more importantly – instruction time for the students. It's just silliness and will never be tolerated."
One positive thing for McAdams: She did get out of ISS. Instead, she was taken to the Columbia County Jail.