An Augusta man touched the butt of an MCG nurse while she was turned to help the man's mother in a patient room, according to authorities.
"I got my feel for the day," the man reportedly said.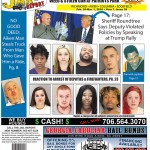 (For more crime stories, pick up this week's Jail Report. Copies can be bought at local gas stations for $1.50.)
Pierce Thompkins, 49, was arrested Feb. 12 after the nurse complained to police with MCG, which is now called Augusta University Medical Center. He was charged with sexual battery in the case.
While the suspect was arrested Feb. 12, the incident occurred a month before on Jan. 14. The report describes a distraught nurse who had gone in to take blood from Thompkins' mother. The suspect was laying on a couch in the patient room.
"While she was focusing on the patient, Thompkins placed his hand in the divide of her buttock and chuckled," the report says.
The 50-year-old nurse told officers that she struck the man's hand away and told him not to touch her like that again.
The suspect was confronted by officers, who said it he accidentally touched her with his elbow when he was moving around, the report says. He said he apologized to the nurse and she continued to work without any issues.
The nurse was told about how to obtain a warrant, and she did.
Editor's Note: Augusta University police denied The Jail Report's request for the sexual battery report without explanation, forcing our staff to file an open records request with the university's Legal Services Division. In a phone call with our reporter, LSD Coordinator Denise Webster said she would take every day allowed by law before releasing the report, and she did, releasing it though her office at 5:30 p.m. Wednesday.