A man attacked his mother and his brother after he became convinced that his brother had urinated on his toothbrush.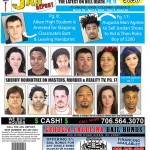 (This is one of many crazy crime stories in this week's Jail Report. Pick up your copy today in local gas stations for $1.50.)
Fernandez Jones, 20 of the 3000 block of Libby Drive, Augusta, was arrested last Tuesday and charged with simple battery family violence, a Richmond County Sheriff's report said.
Jones began complaining last Tuesday that his toothbrush smelled of urine and he told his mother he was sure his brother was behind  it. He quickly became irrational and grabbed his mother by her face and then her throat.
The mother called out to her other son for help, but Jones punched him in the face repeatedly. The mother ran into her bedroom and shut the door but Jones kicked it in.
When deputies talked to Jones, he talked "continuously" about the wires in his house that were being used to spy on him, the report said.