A resident assistant at Augusta University was arrested Wednesday after allegedly forcing his way into a female student's room and pleasuring himself in front of her, according to authorities.
Michael Anthony Bachan, 21, was charged with criminal trespassing and public indecency after Wednesday's bizarre incident.
According to arrest warrants, Bachan tried to force his way into the female student's room at Oak Hall after she told him he couldn't enter.
"He then used his Resident Assistant Access Card to enter her room and she locked herself in her bathroom," according to authorities. "He then exposed his genitals to her.  She pushed him out of the room and a few moments later, she heard movement outside of her room.  She looked through the peephole and saw Bachan masturbating outside of her dorm room. "
According to his Facebook page, Bachan is majoring in cell and molecular biology at AU. He is from Miami.
Bachan is being held at the Richmond County Jail.
Here is a statement from Jack Evans, AU's Vice President of Communications & Marketing:
"Student safety and security are of paramount importance. We are committed to due process, and actions that violate our code of conduct will not be tolerated. Immediately following his arrest, all of mister Bachan's badge access to housing was removed. He was terminated from his employment, we have initiated a sexual misconduct investigation, and we are pursuing additional student code of conduct actions."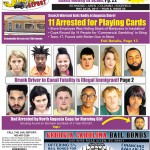 For more crime news, pick up this week's edition of The Jail Report.