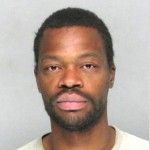 An Augusta burglar was shot dead by the homeowner in the middle of the night Monday, authorities said.
Anthony James Lawson, 40, was shot at a residence on the 2400 block of Wrightsboro Road, Coroner Mark Bowen said.
"Lawson received at least one gunshot wound and was pronounced dead on the scene at 3:38 a.m.," the coroner said. "Lawson was shot by the homeowner after breaking into the residence on Wrightsboro Road."
Lawson is shown here from a 2011 mugshot for disorderly conduct. He was listed as homeless that year.
More importantly, he has a conviction from 2003 for reckless conduct by an HIV infected person. He was sentenced to 10 years in prison but served less than three years before his release.
Lawson also had convictions for theft by taking and public drunkenness.
Lawson's body will be sent to the GBI Atlanta Lab for an autopsy sometime early part of this week, the coroner said.
The sheriff's office is investigating, but they have not released details on the shooting or the homeowner.