A local judge has sentenced an Augusta child molester to just five years in prison for molesting two neighborhood girls and providing them with alcohol and pornographic videos.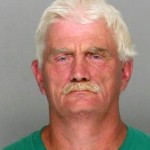 Michael S. Story, 57, was given a plea deal by the District Attorney's Office for two counts of sexual battery in return for the sentence, given by Judge Michael N. Annis. The deal reportedly was made to save the two victims from testifying, and it also included five years of probation. He already served two years in jail awaiting trial.
In return for the plea, here are the charges dropped by prosecutors: three counts of child molestation, four counts of furnishing alcohol to minors, one count of contributing to the delinquency of a minor, and five counts of electronically furnishing obscene material to a minor.
His crimes. In 2013, deputies were called to a disturbance between a mother and her 16-year-old daughter on June 29. During the routine call, the teen told deputies that her neighbor had given her alcohol at least four times, placed his hands all over her body, showed her a dildo and described what he could do with it, and gave her four pornographic movies with instructions to watch them. He also asked the girl to "send him nude pictures of herself," a report says.
The teen said Story had also given her 10-year-old brother alcohol at his residence.
Investigators also talked to a 13-year-old girl in the same neighborhood who said Story had touched her buttocks multiple times and hugged her "chest to chest" when no one else was around, a report says.
One of the victims also accused Story of providing her Xanax and making sure she took it in front of him, the report says.
(For more crime stories, pick up this week's new issue of The Jail Report, sold in local gas stations.)