The Augusta District Attorney's newly-created Special Victims Unit secured a guilty verdict Friday in a rape and incest case against Nicholas Mims.
After a week of trial, Mims was found guilty of rape and incest by a Richmond County jury and sentenced to life in prison. Over the course of four years, Mims fed his biological daughter drugs and forced her to do sexual acts almost daily, according to prosecutors. This perpetual abuse resulted in the birth of a child, which DNA proved was both Mims' child and grandchild.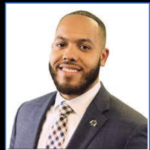 "A strong survivor, the victim took the witness stand last week and faced her attacker, not allowing him the satisfaction of seeing her tears," District Attorney Jared Williams said in a press release. "This conviction ensures that the cycle of abuse endured by this family ends."
Mims has been sentenced to life in prison followed by an additional 30 years in prison. The jury heard this heart-wrenching testimony, and applied the evidence and law to reach a unanimous decision.
"This could not have been accomplished without the talent and sacrifice of Assistant District Attorneys William Hammond and Justin Mullis of the Special Victims Unit, tirelessly supported by our DA Investigators, Legal Assistants, and Victim Advocates," Williams said. "The SVU was created to protect this community from dangerous predators like Mr. Mims, and we are grateful for the opportunity to serve."