A Richmond County inmate hung himself in a locked cell Monday afternoon, sparking a routine GBI investigation into the death, authorities said.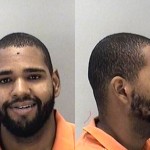 George Anderson Lee III, 24, of Augusta (pictured) was discovered dead about 5:20 p.m. Monday from an apparent hanging, sheriff's Lt. Allan Rollins said in a press release. Deputies and medical staff tried to resuscitate him and EMTs were called to the jail. He was pronounced dead at the jail.
Following procedure, the sheriff's office called in the GBI to conduct an independent investigation.
Background on arrest. Lee has been in jail since last August after his arrest for battery. He was accused of stabbing his father in the chest with a butcher knife during an argument about the younger man's attitude.
Deputies who responded to the stabbing were met by the father who said his son had stabbed him in his left side. He said Lee was still in the house and still had the knife.
Inside the house, Lee was ordered to show his hands. Instead, he tried to grab something out of his pockets, authorities said. He was taken to the ground and a 12-inch butcher knife and an orange pocket knife were found in his front left pants' pocket. Lee's right hand was covered in blood and he had sliced three of his fingers.
Lee's father said the two argued and his son bit him in the back twice. The father got away from him but then Lee grabbed the butcher knife and stabbed him. The father was treated on the scene and later went to Trinity Hospital.
Lee was taken to University Hospital with a deputy riding along in the ambulance because he was so combative. He was treated for the cuts and then taken to jail.
Editor's Note: If you have a better picture of George Lee III, please text it to 803-487-3224 or email it to publisher@thejailreport.com