The Coroner's Office is investigating the traffic death of 20-year-old Dontavis Myez Teasley of Augusta.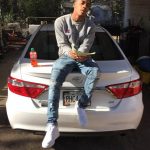 Beasley (pictured) was driving a Kia Soul northbound on Peach Orchard Road at Morning Drive on Saturday when the deadly wreck occurred.  The coroner says that a Honda Accord pulled onto Peach Orchard Road from Morning Drive and the two vehicles collided.
"Teasley's vehicle flipped and he was ejected from the vehicle," Coroner Mark Bowen said in a press release. "Teasley was transported to Augusta University Medical Center by EMS where he was pronounced dead at 6:51 p.m."
No word on the other driver or any possible charges. Stay tuned…
The Jail Report asks you to please be careful out there this Labor Day weekend!