An Augusta man was found shot to death in his Barbara Road home on Wednesday, authorities said.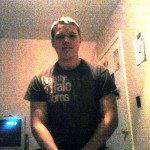 Brandon Grubbs, 21 (pictured), was found by a friend who had come to the house to visit just after 12 noon, sheriff's Lt. Allan Rollins said.
The victim was found on the 300 block of Barbara Road, off Old Savannah Road, and he was pronounced dead at 12:30 p.m. Wednesday, according to Coroner Mark Bowen.
"Grubbs will be taken to the GBI – Atlanta Office for an autopsy.  Grubbs was shot at least one time," the coroner said.
The sheriff's office has no information on suspects as the investigation enters the preliminary stages.
For more crime news, pick up this week's edition of The Jail Report, in stores now. Here's an image of the cover.