Richmond County investigators made a quick arrest in the slaying of a man whose body Saturday morning inside his residence at Glenwood Apartments.
Dwayne Mutombo, 28, of Augusta, was charged with murder in connection with the death of 40-year-old Anthony Driver Jr., according to a press release. A motive was not released.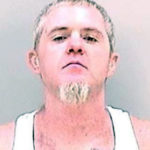 Authorities say that paramedics responded Saturday morning to a welfare check at 2564 Lumpkin Road and found the body of Driver inside the apartment.
During the course of the investigation, investigators made contact with Mutombo, who was later arrested and charged with murder.
The body has been sent to the GBI Lab for an autopsy, Coroner Mark Bowen said.
Note: If you have a better photo or memory to share of Mr. Driver, please text it to The Jail Report at 803-487-3224.
For more crime news, pick up the latest edition of The Jail Report.