After waiting over three years for justice, William Page IV celebrated the dismissal of a trespassing charge in an unusual way.
The Augusta man stood outside the courthouse last month with a not-guilty sign and threw the court papers in the air as his girlfriend snapped photos. He later posted the images on his Facebook page in a 16-part explanation on his hunt for justice.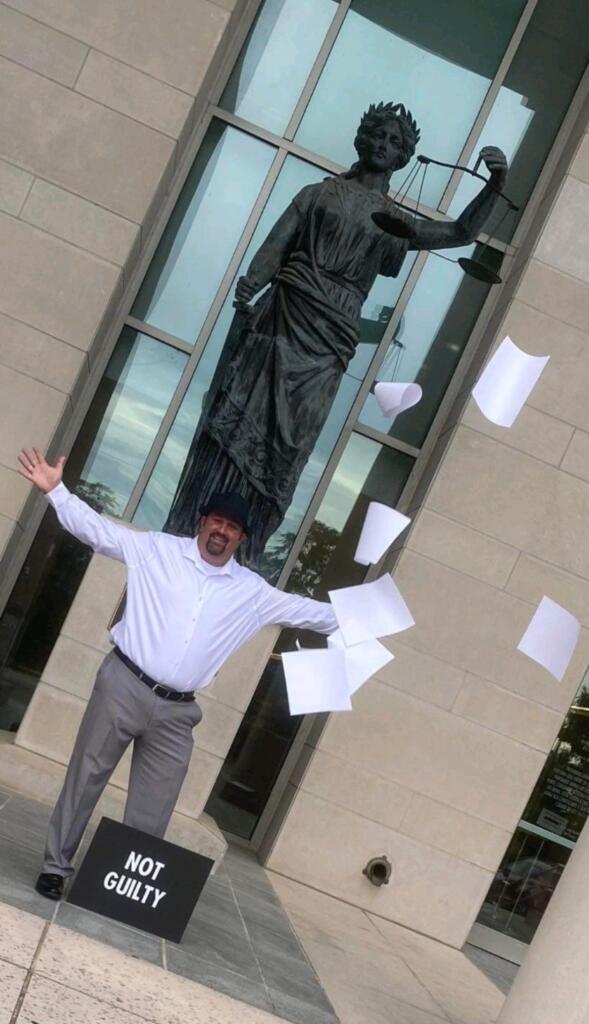 Page says he was wrongfully accused of trespassing by a neighbor. He was accused of going onto the man's property and putting a doghouse and three pieces of wood there.
Ironically, Page's only saving grace was that he received a photo that showed the dog house on the property nine minutes before the neighbor claimed Page put it there.
Prosecutors saw that evidence this summer and finally thew out the case, Page said.
"It took my attorney three years and 49 days to get this taken care of," he said.
Even if he didn't have the evidence, the road construction supervisor had three co-workers ready to testify that he was with them when the alleged crime happened.
Like many, Page was embarrassed by the arrest and release of his mugshot. That's why he took his new girlfriend's advice and posed with the not-guilty sign.
"I was definitely accused of something I did not do," Page said this week. "I would like for it to be cleared up. I had to spend court costs and attorney costs to get this resolved."
He said he believes his arrest was a set-up. The neighbor, who happens to be a reserve deputy, claimed that he witnessed Page come onto his property. But Page says the man could not even get the time and date straight, claiming one date and time before changing it to another.
In the end, once the court received the evidence, the case was withdrawn. Page was actually looking forward to proving his innocence in a jury trial, but that was cancelled with the evidence.
"I just wanted to prove to all the people … who seen it in your paper, William Page is not guilty and these allegations are not true," he said.