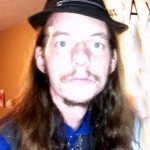 An Augusta man was found dead in the road from an apparent gunshot wound Tuesday morning, authorities said.
Jeremy Clark, 29 (pictured from his Facebook page) was found dead on the 4100 block of Woodard Avenue, which is off Peach Orchard Road near Town & Country Shopping Center in Augusta.
The victim was pronounced dead at 7:45 a.m. Tuesday, Coroner Mark Bowen said.
The coroner said Clark had what appears to be at least one gunshot wound. His body will be taken to GBI – Atlanta Lab this week for an autopsy.
The sheriff's office has not released any information on the killing or a possible suspect, and they did not immediately return messages.
Friends are already remembering the victim on Facebook.
"Just found out my best friend Jeremy Clark got killed. They found his body (on Tuesday) at end of our road," said Destiny DaBoss Ladiee. "I'm so upset. This don't seem real."
Clark's Facebook page says he went to Cross Creek High School and was once an actor at Plantation Blood.
Note: If you have a photo of the victim or a memory you want to share, please text it to 803-487-3224.