Augusta has recorded its first homicide of 2021 after a young man was shot to death overnight at Rocky Creek Apartments.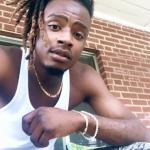 Richmond County authorities say victim Khalid Ravenell was fatally shot inside his apartment on 950 Stevens Creek Road and pronounced dead at 12:30 a.m. Wednesday. The 26-year-old victim was shot at least one time, Coroner Mark Bowen said.  The body will be transported to the GBI Lab for an autopsy.
Two male suspects are in custody, but their names have not yet been released.
Khalid is already being remember online. "First of the year & The madness starts already . Man Damn man Rip Khalid Ravenell. Rest easy Bro. It's always the Good Die Young man . Lost for words bro," said Kyron Mcgee on Facebook.
The sheriff's office has not released a motive.
HOMICIDE COUNT: Richmond County recorded 43 homicides cases in 2020 with 46 deaths, since some cases have multiple victims. Seven cases are unsolved.  Those statistics show an increase from 2019, when the county recorded 39 homicide cases with 41 killings. Eight of those cases remain unsolved.