The man known for giving people "thumbs up" while back-pedaling in his wheelchair was shot dead Tuesday in Augusta's latest homicide.
Michael Gentry, 60, was shot around 6 p.m. Tuesday on Fenwick Street, the street where he lives, Coroner Mark Bowen said in a press release. No arrest was announced.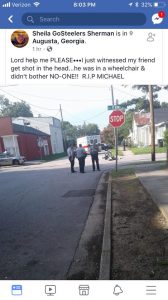 Facebook reaction was instant, with one Harrisburg neighbor posting a controversial photo of the victim laying dead in the street next to his wheelchair. Sheriff's deputies and an ambulance are seen nearby with nothing covering the body.
"For those who have been to First UPC, this was the man the back pedaled in his wheelchair while giving thumbs up," said Albert Ramirez.
Chikiya Mack said: "So sad. This is right around the corner from my aunt's house. Every time I passed him when I was in Augusta, he would give me a thumbs up and I would give one back. RIP."
Matt Lemacks said: "Wannabe gangstas running around with guns suped up on rap music shooting people in wheelchairs."
By 9 p.m. Tuesday, the sheriff's office had not announced an arrest or issued a statement in the murder beyond what the coroner said.
Note: If you have a better photo of Michael, please text it to The Jail Report at 803-487-3224.
For more crime news, pick up the latest edition of The Jail Report in local gas stations. Here is the cover: