A local man robbed a fancy restaurant at the Augusta Mall after closing time Saturday night, holding three people against their will, according to arrest warrants.
Ramsey Treece, 29, is accused of robbing The Chop House restaurant around 12:30 a.m. Sunday, authorities said. He was captured quickly and charged with armed robbery, weapon possession and three counts of kidnapping.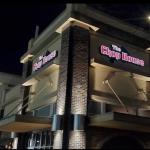 Arrest warrants say he robbed the steak house of more than $2,200 cash after pointing a gun at the manager and taking her into the office. He threw a bag on the floor and ordered her to fill it with money from the safe.
Authorities say he entered an unlocked door, waved his gun around and ordered three people to get on the floor while he committed the robbery. He later returned from the office and ordered the three victims to move to the back of the restaurant.
A website says the restaurant closes at 11 p.m. on Saturdays.
Treece, of Waverly Way, Augusta, is being held at the Richmond County Jail under no bond.
To see previous issues online, become a Supporter for $4.99 a month on Facebook for our Fan Subscriptions.