An Augusta man seriously injured a 2-year-old boy on Friday after striking the child in the face, according to authorities.
Jimmy Hilliard, 39, of Alpine Road, was charged Friday with cruelty to children in the first-degree. His relationship to the child was not immediately clear. We will update the story once we find out.
According to an arrest warrant, Hilliard struck the boy in the face, causing the child to fall forward into the concrete. The boy suffered a large hematoma (swelling) to the forehead, lacerations to the nose and possible build-up around his kidneys, the warrant says.
Background. Hilliard has a previous arrest from April for terroristic threats & acts, criminal damage to property and criminal trespass. In that case, he used a stick to damage cars and apartment doors of his neighbors at Alpine Villas Apartments. He told authorities that the neighbors were harassing his wife.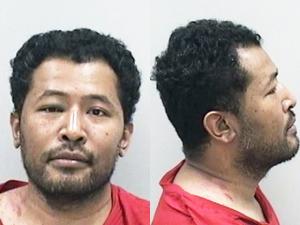 On one vehicle, Hilliard was seen striking the passenger side mirror, the rear passenger side window, which caused the glass to break, and the rear passenger side window frame. The damage to the vehicle was approximately $1,500.  The other one sustained $200 in damage from the suspect striking the rear driver's side bumper with the stick.
Hilliard admitting to damaging both doors to the apartments and both vehicles and was placed under arrest. After Hilliard was placed in the rear of my patrol car, Hilliard became irate, a sheriff's report says.
"Hilliard advised (deputy) he was going to stalk me when he was released from jail. Hilliard then stated 'I got your badge number and I got your last name and when I find you I'm going to kill you,'" the report says.
Hilliard posted a 50-minute video last month on Facebook identifying himself as a disabled combat veteran who suffers from depression and PTSD. He said he previously lived in Iowa.