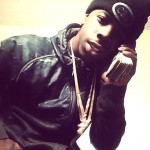 An Augusta man was shot to death Tuesday afternoon in broad daylight outside a vacant residence at Fox Den Apartments.
Juwan T. Doby, 21, was shot around 3:08 p.m. Tuesday outside the apartments, and the coroner's office declared him dead a half hour later on the 200 block of Fox Trace Drive. He was found about three miles from where he resides at Brandywine Place.
Doby was shot at least one time, Coroner Mark Bowen said. Authorities ae reportedly searching for a man wearing an orange shirt and khaki shorts.
Friends of "Lil Doby" are already remembering him on Facebook as someone who was about to become a father:
Makaveli Conner: "Condolences go out to u and ur family lil doby meant a lot to a lot of people."
Nastassjia Dicks: "Everything about growing up in the G from finessing 50 cent to get freezy cups to watching them play curb ball, kickball, football, you name it. Now at 21 his life is cut short. my prayers go out to his family especially his child's mother! I pray God gives her strength for the baby she's carrying. the violence has to stop like I really can't wrap my mind around the fact that he's no longer here and I wish it wasn't true. We have to do better."
Jasmyn Rene: "RIP. … Put them damn Guns down!!!!!!!!!! This man has a baby girl on the way. Man."
Note: If you want to submit a photo of Doby for this site, please text it to The Jail Report at 803-487-3224.