An Augusta felon has been arrested for shooting a visitor to his home and burying him behind his home in a shallow grave.
John Daniels Jr., 41, of Meadowlark Drive, confessed to shooting 55-year-old John Fitzgerald Jones while they were both at the suspect's house. Daniels was charged Tuesday with murder and possession of a firearm by a convicted felon.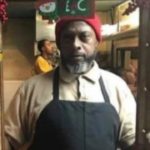 The victim had been missing for several days when investigators went to Daniels' home on Tuesday. The resident allowed Investigator Ronald Sylvester to search his residence. Officers eventually found the victim "in a shallow grave behind a residence," Coroner Mark Bowen said.
"The body has been in the grave for several days," the coroner said.
Note: If you have a better photo or memory of the victim, John Jones, please text it to The Jail Report at 803-487-3224.